Eric Douglas is an author, photographer, blogger and magazine writer who has had the good fortune of traveling the world scuba diving and now is back where he started with a new perspective on life. Join him for the adventure!
Now, with Kindle Match, you can get a Kindle copy of nearly every one of Eric's books as an ebook when you buy the softcover!
Recent releases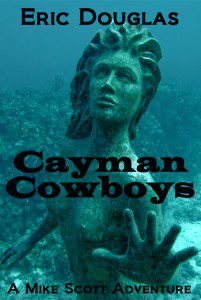 Diving in Grand Cayman, magazine photographer Mike Scott notices a series of unusual occurrences including the death of a girl, a protest of new development and the systematic destruction of coral reefs. It all comes together when armed men warn him away from a dive site. Investigating, he witnesses a specially-equipped submarine destroying the reef…
This is the second edition of the first Mike Scott adventure novel. It also includes the first chapter of Flooding Hollywood. Read the rest of the description now!

River Town is a collection of short stories set in 1890s West Virginia. The combined work of six different authors, the tales range from adventure to romance, from intrigue to fantasy. Each story stands alone, yet together they take readers to a time along the Kanawha River just after the Civil War when families were still struggling to recover and as the railroad was first making its way through the mountains. The river was the center of everything.
Short Fiction
The Withrow Key short story adventure series features revolves around small town life in the Florida Keys, diving, oceans, intrigue and adventure–with some weirdness thrown in. Check them out in the Short Fiction section.